5 Ways to Promote Baby's Cognitive Development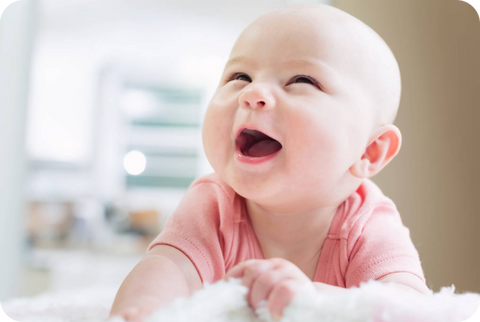 Baby development begins well before an infant is even born. "A child's neurological system starts to form in the first week of gestation and is basically in place by the time the mother reaches four weeks of pregnancy," says Adiaha Spinks-Franklin, MD, a developmental-behavioral pediatrician at Texas Children's Hospital in Houston. "And by 17 weeks a fetus can hear." Therefore, it's never too early to start engaging in baby activities to help stimulate development.
Connect With Your Baby as Much as Possible
  Do breast-feeding as long as you can. It's a fact that schoolkids who were breast-fed as infants have higher IQs. Plus, nursing is a great time to bond with your infant by singing, talking, or simply stroking that delicious baby hair.
  Use moments on the changing pad to teach body parts or pieces of clothing. Narrate to help your baby learn to anticipate routines.
  Your baby's brain needs one-on-one interaction that no TV show, no matter how educational, can provide. Please turn off the TV when you are staying with your baby.
Stimulate Baby's vision
  "When the baby is awake, make sure she can see your face. Research shows that babies prefer objects and designs that resemble the human face, and when the baby reaches 2 to 3 months, smile a lot so she can reciprocate." says Kenneth Wible, MD, medical director of the Pediatric Care Center at Children's Mercy Hospitals and Clinics in Kansas City, Mo.
  We can also do something to enhance baby's vision such as sticking out our tongue for infant's imitation, letting babies stare themselves in the mirror and giving some similar pictures to babies for recognizing the difference.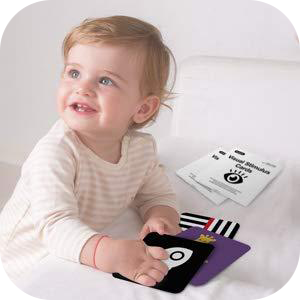 Cheer Your Baby Up
  "At about 9 months, babies develop object permanence — they know that when something isn't present, it can still exist," Spinks-Franklin explains. "Peekaboo is a really fun baby activity at this age because children get a kick out of 'You disappeared … and then you came back!' And when babies cover their eyes at this stage of development, they think their whole body is hiding."
  Singing songs, tickling baby's toes, silly cooing and high-pitched baby talk will also be helpful to cheer your baby up.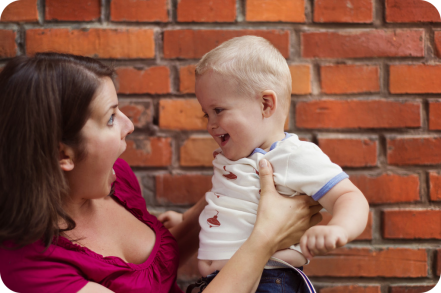 Get Physical
  "Spending time on her tummy is essential to a baby developing a strong body for movement, including head and trunk control," says Amelia Miller, MS, chief infant development specialist at La Rabida Children's Hospital in Chicago. You can help your infant develop motor skills by initiating tummy time at the end of your child's second month. Start by placing your baby on your chest or lap or holding your baby in your arms. You can then move on to putting your baby on a mat or on the floor. Tummy time isn't a baby activity that infants are generally fond of, so when your baby gets fussy, tummy time is over.
  Play "follow the leader" game,Teach your baby to twist and shout,do the funky chicken or twirl like a ballerina. Make baby Crawl through the house, varying your speed. Stop at interesting places to play. As your toddler gets older, he'll stretch his creativity to see if you really will do everything he does, like make silly noises, crawl backward, or laugh.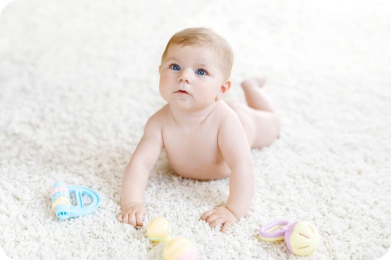 Enhance Baby Activities With Toys
  Around 6 months, when a baby has the motor skills necessary to sit up and grasp or retrieve objects, introduce interactive toys that facilitate baby development. "Toys that roll will stimulate a baby to go after them and encourage her to move," Wible says. "This is also a good time for colorful toys, pop-up toys, and things that surprise."
  When you provide loving, language-enriched experiences for your baby, you are giving his brain's neural connections and pathways more opportunities to become wired together. In turn, he will acquire rich language, reasoning, and planning skills. These easy tips, stimulating books and supervised, interactive activities will help make sure your young child's brain is primed for years of learning ahead.
1 comment